SVK #19 – Jessica and the Jumbo Fish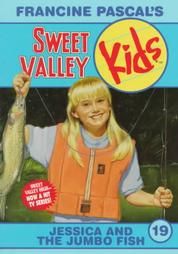 We have a "reader of the month" photo and essay inside this book! Does anyone know (or want to admit to being) Rachel Gary? My favorite line of her essay:
Elizabeth is nice and is different from her sister. Jessica reminds me of a girl in my class.
I'm thinking she doesn't like this girl in her class.
But on to the book, in which Jessica – wait for it – catches a fish she names Jumbo!
(
Collapse
)